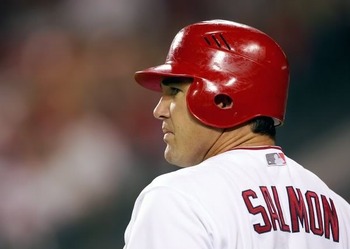 As one of only two non-playoff years to make the list, 2006 won't really be remembered by baseball historians for any significance (I mean, hell, did you even remember that the St. Louis Cardinals, led by David Eckstein and JEFF Weaver won the World Series that year?!), but it will probably remain firmly in the thoughts of Angels Fans everywhere for quite some time.
It started out bad... then only got worse. By the end of June, the Angels were 31-40, 8 games out of first place and things were not looking up. Then suddenly, when the Calender flipped to July, the Angels flipped a switch, and by the end of the month, were tied for the division lead. Things kind of evened out throughout the rest of the season and we ended up losing the division by 4 games, although we were contending up to the last week of the season.
Now, this season isn't memorable just because we won fewer games than the A's, no. It marked the last time that former World Champions Tim Salmon, Adam Kennedy, Darin Erstad, Brendan Donnelly and pitching coach Bud Black would ever put on an Angel Uniform. Most importantly it marked the end of an era for the team. The Tim Salmon Era.
I was lucky enough to see Salmon's final at-bats in person (from far off in Left, but I was still there), and the crowd wanted so desperately to see #300. It never happened, and we all went home a little upset that day, but as time has passed, it was really an honor to be there. To be able to cheer for him in a Major League setting for one final time (that is, until
his number gets retired!
) was an experience I'll never forget.
It was also the first season we got a sneak preview of our Ace to be, Jered Weaver. He came up, then went back down, then came back up... we jerked him around so much that season, I'm still shocked he started 9-0. He even had an ERA as low as 1.12 at times during that run. Simply Incredible. If Scioscia gave him a fair shake, he probably could have been the AL Rookie of the Year.
It was a tough luck season for the Angels, but I felt like it help the fan base grow. We had to understand that we could still have a good season under Moreno and still fail to make the postseason. It made 2010 a little easier to swallow. Is it actually one of the ten best seasons for the Angels? Probably not, but its the one I'll most fondly remember that didn't end with us raising a banner.
---
I bet you noticed that two of the top 10 aren't playoff teams... quick math dictates that one playoff team didn't make it.... any guesses? Times up. 2007 won't be making the list. It was a year that brought us Shea Hillenbrand and maybe our most embarrassing playoff exit ever (at least Vlad hit a Grand Slam in the sweep of 2004).
I'll revisit this list on off-days during the season, and at least one more time before the season starts on Thursday.