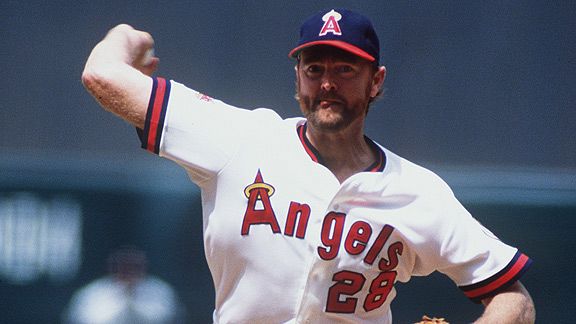 Welcome to 2011, which is already turning out to be one of the best years in Bert Blyleven's life. Early Wednesday Morning, the former Angel and Twin was elected into the Baseball Hall of Fame's class of 2011 alongside perennial Second Base Gold-Glover, Roberto Alomar. I was lucky enough to have seen Alomar play, but I am too young to have seen the great Blyleven ever play. I have seen videos, specials and the like, and I can tell he was a very special pitcher who always showed up for big games.
While its very likely he will enter the hall as a member of the Minnesota Twins (with whom he started his career and, during his second stint with the team, won the 1987 World Series), he will always be remembered fondly as an Angel. He won the 1989 Comeback Player of the Year award as a member of the Halos. Its also always a treat when he comes back (along with the Twins, whom he is a Color Commentator for) and does a few interviews in Anaheim.
Blyleven won 287 games in his 22 year career, amassing 3,701 strikeouts to go along with a career ERA of 3.31. He pitched a no-hitter for the Texas Rangers in 1977, and won his first of two World Series titles in 1979 with the Pittsburgh Pirates (yes, they have won a World Series before, weird, huh?).
Angels Nation would like to congratulate Bert Blyleven and Roberto Alomar on their admission to the Hall of Fame, and won't sully this post talking about those that didn't make the cut (thats for tomorrow!)